"Quiet, please!" Nonwovens are concentrating on the acoustics market where they are gaining clout for their cost-effective performance at lower weights. "Silence is Golden" is an interesting article brought by Nonwoven Industry, which is very much in line with Ucomposites' perspectives. By Sandra Levy, Nonwoven Industry.
Remember the first time you turned on the sound system of your dreams as you drove away from the dealership with your new car? The music sounded crisp and clean; the noise from the other cars on the road didn't permeate the interior cabin or interfere with your enjoyment. And, when you stopped for a red light, the occupants of other cars near didn't scowl at you because your music wasn't reaching their ears. The reason for this awesome experience: nonwovens.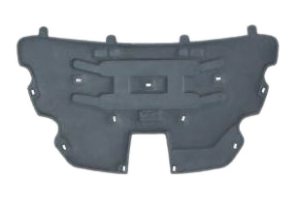 Offering the same or greater performance at lower weights than shoddy materials, nonwovens are increasingly being called upon to fulfill a variety of acoustic needs in automotives as well as a plethora of applications including construction, roofing, home appliances, boats and aerospace applications.
One company leading the way in the acoustics market is Texel with its ThermoFit portfolio of products— one being a proprietary blend of thermoplastic and non-thermoplastic material, one being 100% synthetic, and one containing natural fibers, all engineered for enhanced acoustics.
Automotive applications for ThermoFit products include trunks, package trays, door inserts and exterior wheel well liners. "With regard to the latter application, exterior wheel well liners, the non-thermosplastic fibers add to the acoustics' dampening of the product. When these materials are molded, the non-thermoplastic fibers in the material do not melt and fuse. They actually act as filters for sound," said Gale Shipley, sales manager for automotives.
ThermoFit's synthetic line is made of fiber/low melt fiber combination. The key benefit of this fiber combination is that it retains some air permeability, or airflow. "Airflow resistivity in automotives is measured in RAYLS. If the airflow or porosity is totally sealed, which in most cases occurs with the glass/polypropylene products in the market, your acoustic benefits for sound absorption are substantially reduced. By utilizing a fibrous product such as ThermoFit, airflow is maintained and sound transmission is reduced. In most molding operations, gap settings can be adjusted to target the RAYLS value specified by the OEM," said Ms. Shipley.
Texel is also supplying A-face scrims for headliners as well as substrate scrims. "The weight range of these products is from 100-300 grams per square meter (gsm). Substrate scrims are utilized behind warp knit face products to prevent read through and behind other substrate materials for handability," said Ms. Shipley.
Noting that a lot of people are switching from knitted products to nonwovens because nonwovens are more cost effective, Ms. Shipley said that the nonwovens industry is getting a boost from the proliferation of sound systems in cars targeted for the "Y" generation cars. "Cars are being designed to keep sound inside the car as well as keeping the interfering outside noises out. The part of the population that likes playing music extra loud is learning very quickly they can get a ticket for the noise. The industry is jumping right in by coming up with very economical acoustic packages to help out as much as possible in keeping that noise away from passerbys," she added.
The automotive industry is also expanding its use of nonwovens for acoustic purposes in exterior wheel well liners. "Wheel well liners were originally installed on higher end vehicles only, but OEM's are beginning to insert these in a vide variety of cars to keep the road noise from coming into the cabin away from passengers. Ford has taken the lead on installing them in its smaller cars such as the Fiesta and Focus. This liner installation is a trend that seems to be increasing rather dramatically versus being an automotive part that's deleted because of cost," said Ms. Shipley.
Peter Hartwig, managing director of Germany based J.H. Ziegler GmbH., agreed that quiet cabins are a trend that is becoming paramount. "It depends on the size of the car. It's different if you have a small Chevrolet or the Mercedes E class. People want to use mobile phones while they are in the car, therefore it can't be too noisy from the outside.It's not a legal requirement, it's just what people want," he said.
Weight Reduction Is Key
Automotive companies have made no secret of the fact that they are looking for ways to reduce weights and increase fuel efficiency. Ziegler is also focusing on acoustics in this market. The company's Hacoloft, which is a very fine polyester fiber nonwoven is used for many applications including behind door panels, behind the dashboard, in the trunk, engine compartment, motor compartment and passenger compartment.
Mr. Hartwig said,"Compared to products made of shoddy, which are recycled textiles you get the same absorption, or even better absorption with about one-third of the weight, so you get a weight reduction. It's important now because of fuel consumption per miles per gallon." Emphasizing that Ziegler is active in the European market, Mr. Hartwig said, "The transition from the shoddy products to polyester products is really now more or less complete. We see that polyester products are starting to be used in all new models. The requirements are always to get good acoustic properties at low weights and you usually have only limited space for the parts—sometimes only 10 millimeters and you still want good acoustic absorption properties. They don't have any space left for these acoustic absorbents so there is always a requirement to have a very thin material, which still has good acoustic absorption. It's not only a requirement in automotive,but also in appliances."
Another longstanding player in the automotive acoustics market that is responding to OEM's demands for improved acoustics and lighter weights is Textilgruppe Hof. Hof manufactures a variety of different styles using a broad range of technologies including binder-bonded, needlepunched, thermal bonded, spunlace and stitchbonded.
According to Detlev Kaeppel, technical nonwovens division director, of Hof subsidiary eswegee Vliesstoff GmbH, the company has responded to OEM's pressure by developing a new product range of lightweight nonwovens.
"Our new Zetajet spunlace product line has been well accepted within a short period of time by many of our Tier1 customers and OEMs. Many new cars launched within the next couple of months and years will use Zetajet spunlace nonwovens for all kinds of acoustic applications in cars including hood liners, inner and outer dash, tunnel insulation, firewall, underbody shields, headliners and injection moldings," he said.
Zetajet is a new spunlace nonwoven generation with a weight range from 35-250 gsm. Due to its specific fiber orientation, the physical properties are characterized by high tensile strength and extremely high elongation in both MD and CD directions. "This is an advantage for molded automotive parts with extensive radii and difficult geometries. Zetajet has very good coverage at low and lower weights in order to save costs.The specific fiber orientation contributes to enhanced acoustical properties in the final parts due to low AFR (air flow resistance). All Zetajet qualities can be finished and coated to meet the stringent OEM requirements such as FR tests, oil/water/diesel repellency, shrinkage during molding, climate testing and sagging tests.Many OEM/Tier1s are using Zetajet on the A and B side (front and reverse side) on the upcoming car generations for their acoustic parts," said Mr. Kaeppel.
Another experienced player in the automotive acoustics market is Sandler AG.The company offers materials for interior and exterior applications. Sandler's sawasorb exterior, which is used in the engine compartment, has quick drying, temperature stability and excellent sound insulating properties.
Ulrich Hornfeck, vice president of sales, logistics and purchasing said, "When applied in the engine cover, this nonwoven material dampens engine noise and ensures pleasant acoustics in the passenger compartment. In the wheel house liner, our absorber materials dampen road noise and are resistant against moisture and weather conditions, ensuring long-lasting acoustical efficiency."
Emphasizing that acoustical nonwovens should have excellent acoustical properties while being easy to process, Dr. Hornfeck said, "We are increasingly being asked for a combination of different characteristics such as water-repellence, rigidity of the trims and sound absorption in one medium adjusted to specific customer needs. In light of these requirements, Sandler developed a broad range of various absorber media: lightweight absorbers for the low and medium frequency range as well as fibrous polyester absorbers for medium and high frequencies. "New product lines of lightweight absorber nonwovens which cover an even broader absorption spectrum complete the product range," he said.
Dr. Hornfeck went on to say that since cars are no longer just a means of transportation but are also considered a place of relaxation, acoustics have become of paramount importance. "Motor and road noise need to be absorbed where they emerge in order to allow for a good communication between the occupants in the passenger compartment. OEMs are still looking for lightweight, temperature stable, recyclable materials with excellent technical data and low emission rates at the same time. In addition, producers do require materials to be more and more versatile," he said.
Roadblocks
While players in the acoustics market are reporting growth, they are also faced with many challenges.
The limping economy and the current spike in oil prices are undoubtedly keeping some players up at night, but the picture isn't entirely bleak. "The good thing is that after the 2008-2009 decline in the auto industry, the OEMs redesigned their offerings and many of the cars currently being made are smaller cars for better gas mileage. As a result, the North American industry is ready. So this (current hike in gas prices) shouldn't hurt us nearly as badly as it was felt when the gas increases happened a couple of years ago," said Ms. Shipley.
The emergence of hybrid and Electric Vehicles (EVs) is another challenge that acoustic suppliers in the nonwovens industry can't ignore. Will the growth in these types of vehicles be a boon or bust to nonwovens suppliers?
"We will still supply those cars. It is predicted that only 1 to 2% of the market will be EVs in 2015 due to the higher price (of the EVs). This price can be offset somewhat with the new use of less costly, lighter weight nonwovens," said Ms. Shipley.
As auto makers continue to focus on improving fuel economy and meeting federal regulations of miles per gallon, nonwovens players must also meet their demand for even lighter weight fabrics.
Many of the nonwovens players are already stepping up to the plate. "OEMs are manipulating their car designs to meet the 35 miles per gallon (mpg) minimum regulated by the government for 2016. The next hurdle will be the 62 mpg hurdle speculated for 2025. If 62 mpg regulation is passed, many hybrids and new technology with regards to gas and electric combinations will be out. Texel is engineering an underbody product that once molded is mounted underneath the car. It not only will enhance acoustics but also helpwith the aerodynamics of the car. The undercarriage of your vehicle causes air drag and negatively impacts gas mileage. This development is a shield that helps reduce drag. As a result the gas mileage is improved," said Ms. Shipley.
The European Union has its own set of regulations for the auto industry involving CO2 emissions. "The less weight the car has, the lower the fuel consumption is, the lower the CO2 emission. The regulation is very complicated. The average CO2 generation has to be below a certain value for a car," said Mr. Hartwig.
All Quiet On The Homefront
It's not that you don't like your neighbors, you just don't want to hear them, or vice vesa. Not to worry. Nonwovens suppliers are providing solutions and they are reporting increased demand for acoustics solutions inside and outside the home.
"As people are moving closer and closer together in apartment complexes and even housing communities, one result is noise propagation. We can use our ThermoFit product to create decorative wallboards that can be installed similar to a fence around the patio or as an overall screen, thus containing the noise. Wallboards can be used on the outside patio or inside the home. We're primarily seeing use outside of the home in the U.S. That's a growth market for us," said Ms. Shipley.
Hush, Appliances
If you are annoyed by the seemingly endless loud noises your dishwasher and refrigerator churn out, you are not alone. Enter nonwovens. Mr. Hartwig said people want to have the appliances in their kitchen as quietly as possible, especially if the kitchen is connected to the dining room."The appliances have limited space because they want to use as much as possible of the space for the dishwashing compartments, and have the walls as thin as possible, but still avoid the noise," said Mr. Hartwig.
Texel is also a player in the appliance market, offering appliance acoustic blankets."Dishwashers, washers and dryers all contain products for insulative purposes as well as noise dampening.We sell our (HDML) High Density Material product to clothes dryer manufacturers.This product wraps the drum, offering insulation and noise dampening properties, but has a very unique added feature.Due to the fiber blend that we use, one fiber is a natural lubricating fiber that helps on wear and tear of the dryer," said Ms. Shipley.
Up On The Roof
Nonwovens for acoustics are also turning up on the roof. While glass fibers have dominated this market, once again nonwovens are favored in this market for their lightweight characteristics.
Ziegler is experiencing growth in this application where it absorptive material helps with acoustics as well as thermal insulation. "This application is a growth area,"!Mr. Hartwig said. "If you do renovations of old buildings you have to deal with the limited strength of the wooden frame. You are only allowed to use a certain amount of kilos per square meter. Polyester products are always less in weight than competitive products such as glass fiber. They are more expensive, but it's easier to work with these products than glass fiber. It's not very nice, when you get them on your skin," said Mr. Hartwig.
Construction Sites
Acoustic nonwovens are also finding their way into construction and technical insulation applications.
"From exterior to interior walls, from roof construction to footfall sound insulation—various Sandler-fibercomfort nonwovens contribute to the heat insulation of the building as well as to the creation of a pleasant indoor atmosphere by offering optimal sound insulation and thereby creating quiet rooms," said Dr. Hornfeck.
In the technical sector, Sandler's nonwovens are utilized in pipe insulation as well as heating systems. "With their excellent sound and heat insulating properties and their temperature stability, they dependably dampen the noise of water rushing through pipes and maintain the temperature," said Dr. Hornfeck.
Cubicle Life
With the current downturn in the economy and the need to downsize office space, companies have been quick to tear down offices and install cubicle work stations. Again, nonwovens are coming to the rescue, offering products to keep noise from one cubicle to another at bay.
Sandler's sawaform and sawatec for partition walls allow for quiet rooms, even where a number of people share a large office, without absorbing all sounds. "With these materials, a pleasant working atmosphere can be created at work as well as in the home office. They are also flame resistant and self-extinguishing, taking account of safety guidelines for workspaces. Furthermore, they are breathable and produced without any chemical additives. Therefore, neither odor nor toxicological risks are of any concern. In industrial buildings, nonwoven materials are applied to dampen the noise of production plants and create pleasant acoustics which is conducive to productiveness and enjoyment of work," said Dr. Hornfeck.
Boats and Planes
Acoustic nonwovens appear to be finding their way in boats and planes.
According to Ms. Shipley, Texel has had some requests for acoustic nonwovens to go into the curtains on privately owned jets. The company's Backtex, which is a seating material backing is available for transportation applications including planes.
Meanwhile, 3M Acoustic Solutions, which serves all global regions, including the U.S., Europe and Asia offers Thinsulate acoustic insulation, which is based on meltblown microfiber technology. Applications include auto passenger vehicles, commercial vehicles and marine yachts. Bronwen Kleissler, acoustics business manager said, "Thinsulate is used in the engine of the yacht and in the salon area to keep it quiet so you have a very peaceful ride. Because yachts, in most cases are an extra, people want a very quiet experience. They are willing to have a high performance solution."
Sound Signatures
Developing a sound signature is a trend that is growing in the acoustics market.
Ms. Kleissler explained, "Customers come to us with a problem in a certain frequency area or they want to develop a specific sound signature. There's a certain number of engineering steps you have to take to create the desired acoustic experience and eliminate other unwanted noise. Many OEMs will use the sound signature of a vehicle as a differentiating point. For instance, you can think of a high level luxury vehicle as having one kind of sound and a mini van having a different kind of sound. Consumers have an expectation of what that should be inside that vehicle. Ms. Kleissler gave the example of a limousine in which the limo driver's area has silence while a teleconference may be going on behind him. In a mini van, drivers may want a separation area so the driver can focus on the road while the kids are listening to a DVD in their area.
"By engineering the placement of the nonwoven absorbers into the vehicle interior, the acoustic experience and sound quality can be achieved which will meet the OEM and consumer expectation," said Ms. Kleissler.
Recession Woes?
Make no mistake. The recession has jolted many businesses. What effect has it had on the acoustics market?
Despite the recession, Ziegler experienced some small growth even in 2009 and in 2010 the company's sales increased more than one third. Mr. Hartwig attributed the growth to the company's innovative, new products. "We are very close to the market and the recovery of the automotive industry. In 2010 we had a strong recovery of the auto industry, especially with the larger cars, which for acoustic absorption and insulation are more interesting than the very small cars. In Europe, the SUV business is not as big as in the U.S. but people like to have large seat cars like the Mercedes E class. You have more acoustic padding in an upper class car than in a low cost car," said Mr. Hartwig.
Emphasizing that the current hike in gas prices caused by events unfolding in the Mideast may cause a temporary glitch in the market, Ms. Shipley believes the market for auto acoustics will increase. "All of the OEMs have kept their inventories down, which helps on costs. As a result the comeback is slow, but the upturn is real. The OEMs have looked hard at the market and have designed cars to fit the needs of what is happening and what is to come."
Mr. Hartwig is also optimistic about growth, although he said, growth will be parallel to the auto market, especially in the higher end of the market. "If there's growth in the higher end of the auto market, there will be growth for the acoustic absorption," he said.
Mr. Kaeppel also sees the glass half full buthe is concerned about raw material price increases." Due to current market conditions the market is still growing further. Therefore Hof decided to go forward with an investments program in 2011 which will affect all of our worldwide plants. Due to confidentiality reasons we can- not release more specific information.The most difficult challenge at the moment is the dramatic raw material price increases for fibers and chemicals and to have the supply chain filled with enough material to cope with higher market demand. Therefore selling prices will definitely go up regardless of the ignorance at the OEM/Tier 1 level. If we all want to stay competitive and innovative the OEMs/Tier1 have to realize that the "price down" strategy has come to an end, at least for the time being."
Green Minded
With concerns to be environmentally friendly and green at an all time high, it is no wonder that nonwovens players in the acoustics market are working on developments to provide the utmost in ecofriendly offerings.
"The more recent development is the natural fiber/resincombination products. Texel is working on a project utilizing pre preg resins. When you apply these resins to natural fiber components and/or to a blend of recycled fibers you can create something thatis more green and lowers landfilled usage. When heated and molded, the resin structure hardens. In addition, all the ThermoFit products are considered recyclable and use recycled or regenerated fibers," said Ms. Shipley.
Ziegler is also concentrating on sustainability. Mr. Hartwig said, "Let's look at the life cycle of these products. They are made of polyester. Polyester fibernonwovens are made to a large extent from old PET bottles, which are recycled. Originally it was some crude oil. We are talking about products that are durables—which are used for many years. At the end of the lifecycle you can take them out and recycle them again to new fibers."
Ziegler recently bought a plant that makes nonwovens from hemp and flax. "These fibers can be used for acoustics. They are used in the auto industry and are replacing injection molded parts. It's a mixture of polypropylene and flax or hemp. One of the advantages compared to the injection-molded products is that they have less weight and they have better acoustical properties. The purpose of these things is not the acoustics, but the effect. These are the panels on the inside of your door. Behind the fabric you have an injection molded part or something made from flax/polypropylene nonwoven or hemp/polypropylene nonwoven. For us it is more interesting than an injection molded part. It's an interesting and growing area.Obviously hemp and flax grow every year on the land. They are renewable," said Mr. Hartwig.
Dr. Hornfeck agreed that sustainability is of paramount importance in acoustics. "The issue of producing "green" products is becoming more and more important. Environmental laws and regulations render it necessary to revise the choice of materials with regard to automobile panel parts. Producers demand materials which can be processed cleanly and have a low emission level. Sandler's nonwovens for acoustic applications are made of a single polymer material (100% PET) and can therefore be integrated into a cycle of reusable materials. Not only are these single-polymer materials recyclable, but so is the raw material. With our lightweight products, we develop and produce according to our motto "less is best for nature."Due to the low weight of our polyester nonwovens, less material, which has to be recycled, is being processed."
Dr. Hornfeck went on to say that in automobiles, the company's highly efficient nonwoven absorbers also slow the cooling-down of the engine and adjoining components during stops, reducing cold starts and thereby lowering fuel consumption and CO2 emissions. "In addition, our high-quality absorber nonwovens contribute to the temperature regulation inside the vehicle," he said.
Future Sightings
So what will the future hold for the acoustics nonwovens market? Dr. Hornfeck foresees applications for acoustics nonwovens in settings such as restaurants, office buildings, theaters and hospital as growth markets of the future.
Ms. Kleissler envisions increased business from hybrid/Electric Vehicles. "As a category they are somewhat distance limited. Many of the components in the vehicle are very heavy, thus consuming the power supply and limiting the distance they can go between recharging. Using lower density nonwovens like some of the different product families we offer will help to do that. We have been in hybrid vehicles for several years. Toyota Camry hybrid is one example. Hybrid EV's run very quietly, minimizing the need for traditional acoustic treatments but needing treatments in new areas. The inverters have some high frequency sounds not typically found in standard gasoline engine powered vehicles so that very high frequency noise becomes very noticeable. Typically nonwoven absorbers do very well in managing high frequency noise. You couple that high frequency absorption with a very lightweight product, and it's a really good winning situation. It's also cost effective compared to other materials," said Ms. Kleissler.
Ms. Kleissler also predicts there will be a lot of interest in natural fibers that weren't available before. "We see different ways of putting things together so they can be recyclable. Sustainability is a key to all of our futures," she said.
Mr. Hartwig envisions that in the future we will see more sustainable combinations. "Flax or hemp/polypropylene nonwovens are really molded to parts and give you the stability of the inside of your door and have acoustic properties so it's another application than the acoustic paddings which are put in the car only for acoustic purposes. Both products have their application. You can't really replace one with the other," he said. Ms. Shipley said Texel is continuing to explore the prepreg resin, natural fiber, and recycled/regenerated fiber products. She predicts the future will include printed materials. "The automotive and overall industrial sector is a wide open market. People are looking for something different. Texel is exploring it to see what printing may entail. Our coated materials division is already manufacturing a printed outdoor decking tile.
Prior to the higher gas prices and economic downturn, consumers would buy cars without really looking at the details. Customers are now actually analyzing the design, the acoustics and all additions as well as price in a more meticulous way than they have in the past. With the OEM price incentives in automotive now, there are many dealers and many car models to see–who has the best car for your needs. The designers are trying to capture the love of the customers," said Ms. Shipley.